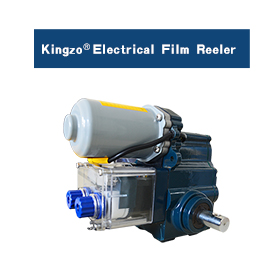 KINGZO ®Electrical Film Reeler
★Short circuit proof;
★No transformer needed, saving cost and convenient;
★Big torque, compact and durable;
★3 years warranty.
Product Manual
|
Technical Parameters
|
Accessories
|
Application
|
After Sales Service
1. Product List
GMA40-S, GMA60-S, GMA100-S, GMA100-S-K, GMA120-S-A1, GMA120-D(Double output shaft)
2. Product Feature
(1) Overload-proof: when the load is 1.5 times the rated torque, the overload protection device will start, the motor will stop, after 5-6 minutes, the motor will restart, this will prevent the motor from burning down;
(2) Cost saving and convenient: directly connected with 220V power, no transformer needed, and saving the cable and installation cost;
(3) Big Torque: customized motors, high efficiency, high overload capacity compact and durable, 3 years warranty.
3. DC 24V and AC 220V Reeler Solution Cost Comparison

Calculation based on a project that requires 100 pcs 100W reelers and 80m cables:
Conclusion: AC 220V Reeler Solution cost is 20%-40% less than DC 24V Reeler Solution.
4. Development History

In 2003, KINGZO® Electrical Film Reeler was developed by Beijing Fenglong;
Till 2006, KINGZO® Reelers have been exported to more than 20 countries, mainly Japan, USA;
In 2008,a total of 10000 sets were sold to Japan market;
In 2013, an innovative KINGZO® AC 220V series was developed;
In 2017, KINGZO® Reelers sold out 80000 sets, annual production capacity reached 1500000 sets.
5. Why KINGZO® Film Reelers ?
(1) Quality: KINGZO® Electrical Film Reeler 100% inspected before shipment, and 10 years traceable archive file kept for each reeler.
(2) R&D: FLC keep the investment to improve and develop new models. FLC R&D team have excellent engineers from both domestic and Japan.
(3) Recognition by Market: through years of efforts, our products have been widely recognized by clients all over the world, including leading greenhouse constructors and growers, like Netafim, Richel, Haygrove, etc.

参数图
Add:Bldg. 5, CAAS, Beijing, China
Tel :+86 10 62149667
Fax:+86 10 82108614
Email: market@bflc.cn
P.C: 100081