Greenhouse Film
Contact Us
Hotline
+86 10 62149667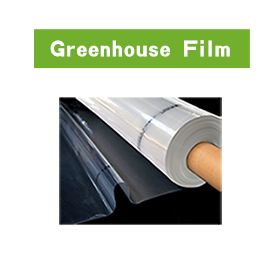 Greenhouse Clear Film
★Made of 100% new virgin raw materials;
★Produced under Japanese management technology to ensure the best quality;
★Inspected by American Q-Lab UV testing machine to ensure its long use life;
★Produced in Tongzhou basement in Beijing of China.
Product Manual
|
Technical Parameters
|
Accessories
|
Application
|
After Sales Service
Product list
60 microns, 80 microns, 100 microns, 120 microns, 130 microns, 150 microns, 200 microns.

1. Product Feature
(1) No recycle materials added: TOYOTANI® Film is made from imported new materials;
(2) High tensile strength: In TOYOTANI® Film formulation, more than 30% metallocene is added, resulting in higher mechanical strength than common resin, improves wind-resistance ability;
(3) Good thermal function: Compared to common film, TOYOTANI® Film increases thermal layer, adding thermal additives and EVA, which is helping to separate infrared and decrease heat consumption in night time;
(4) Enough thickness: No negative error for the thickness of TOYOTANI® Film.

2. TOYOTANI® Film Development History
In 2002, TOYOTAN® I" brand was registered and cooperated, cooperated with other companies to produce TOYOTANI® Film;
In 2011, FLC imported the full set of a production line to produce films for high-quality greenhouse;
In 2016, production capacity reached 11,000 tons and the annual output of film was 4,300 tons.

3. Feature and Case
(1) Quality feature
TOYOTANI® Film is manufactured by Japanese standards, multi-functions, 4-years' quality warranty, especially the light transmission and tensile strength are much higher than national standards and other brands of film.
(2) R & D feature
Under the leadership of FLC CEO, Japanese and Chinese engineers formed researching group to solve and research different problems happened during production.
(3) Formulation feature
TOYOTANI used Japanese formulation, combined more than 10 years' Chinese greenhouse film data, based on many years' practice, and then created the unique film with Chinese characteristics.
(4)Partner feature
The CEO of FLC graduated from Japan, thus FLC has extensive cooperation with Japanese universities and enterprises, including MITSUI CHEMICALS, KYOWA, Chinese Academy of Science Chemistry Institute and Chinese Academy of Agriculture Science.
(5)Application Case
Through many years accumulations of marketing, TOYOTANI® Film has been used extensively for big greenhouse projects in Guangdong, Yunnan and Fujian province, etc.

1. Film should be stored at dry and shading area, not exceeding 6 months;
2. Pesticide can accelerate film damage, so it needs to avoid sulfur fumigation and pesticide sprayed on the surface of films;
3. As printing words and label, the front and back side of films should be installed correctly;
4. Film should be installed loosely in summer, leaving space for films to stretch out and draw back, preventing film to draw back and destroyed when the temperature gets lower;
5. Film should be installed fastened in winter and spring, preventing film to stretch out when the temperature gets higher in summer;
6. Before installation, films should be exposed in room temperature environment for 2 or 3 days.
Add:Bldg.5, CAAS, Beijing, China
Tel :+86 10 62149667
Fax:+86 10 82108614
Email: market@bflc.cn
P.C: 100081